By the end of the second quarter of 2020, Cen Land recorded a net revenue of about VND430 billion, down 34 per cent compared to the same period in 2019. For the first six months of the year, total revenue reached VND705 billion, down 32 per cent from VND1,044 billion in the same period last year.
Of VND 705 billion, revenue from real estate brokerage accounted for VND510 billion, equivalent to 72 per cent. Revenue from real estate investment was VND183 billion.

Profit after tax reached VND97 billion, almost debt-free
In Q2, Cen Land recorded a net profit of VND97 billion, down slightly from VND111 billion compared to the same period last year. Profit in the second quarter decreased due to a 34 per cent decrease in net revenue, and a decrease in cost of goods sold (46.23 per cent), and administrative expenses increased by 11.52 per cent over the same period of the year 2019.

For the first 6 months of 2020, Cen Land recorded after-tax profit of VND140 billion, down 27 per cent over the same period.
Compared to the plan set for 2020, Cen Land has achieved 29 per cent of the revenue plan and 35 per cent of the profit plan.
As of June 30 2020, Cen Land has a total assets of VND2,701 billion, an insignificant increase compared to the beginning of the year. However, the structure of assets has shifted. Specifically, the value of short-term assets is about VND1,553 billion, down 12 per cent; In contrast, the value of long-term assets increases by 26 per cent to VND1,148 billion. In which, short-term receivables for customers is VND708 billion, down 13 per cent; Other short-term receivables decreases by 40 per cent to VND273 billion. Deposits as general agents have increased sharply to VND884 billion due to more properties for sale.
In unfavorable market conditions, liabilities of Cen Land still decreases by 12 per cent compared to the beginning of the year to VND693 billion. The Company almost no longer has financial debt, down to 90 per cent by VN9 billion from VND83 billion.
New projects for sale
Cen Land's business results in the first six months of the year decreased compared to the same period last year due to the impact of the Covid-19 epidemic. However, right after the pandemic is controlled, Cen Land continuously offers new real estate products to the market and take new steps of recovery.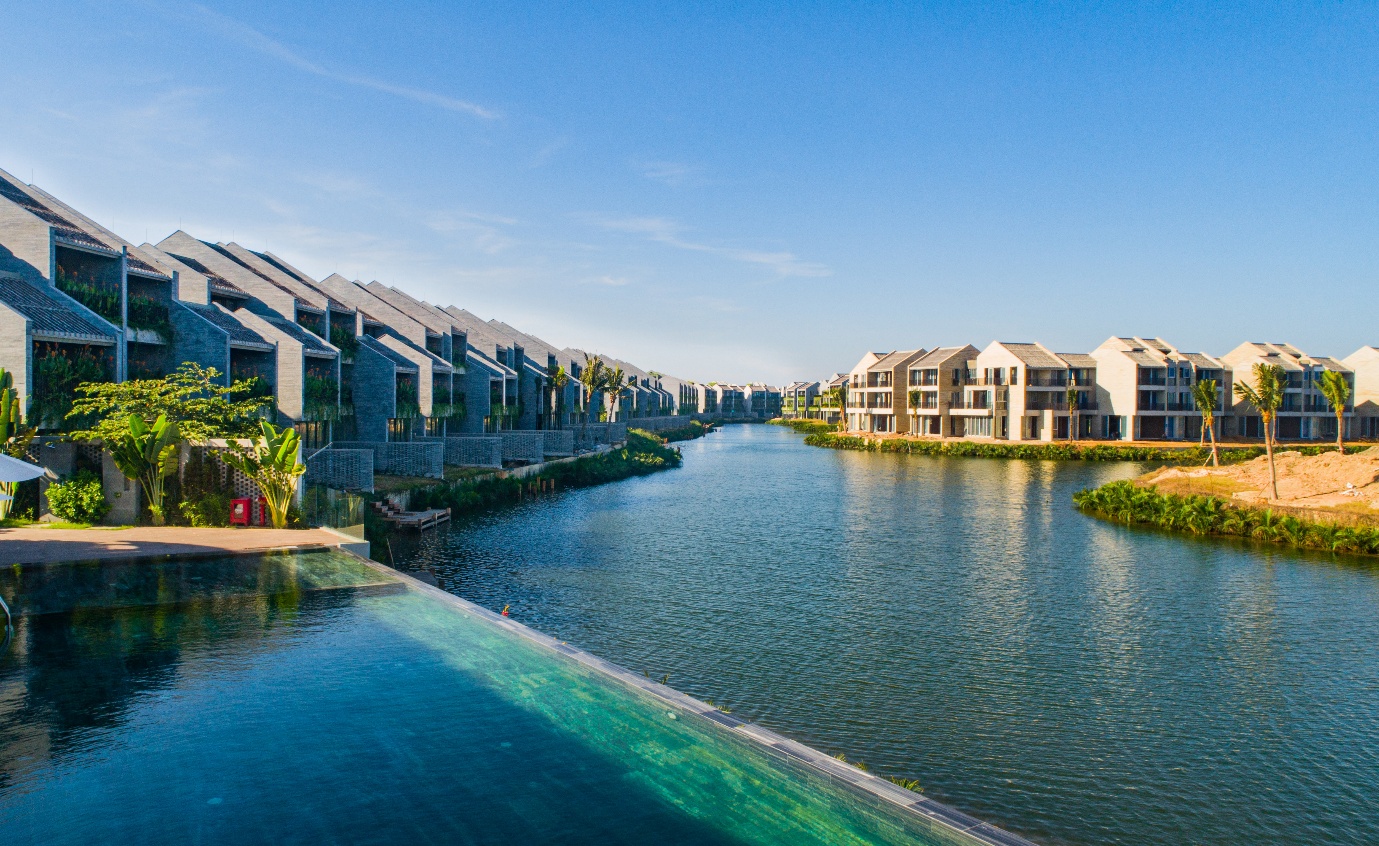 Cen Land exclusively sells Casamia Hoi An project.
After 5 years of not selling Vinhomes products, recently Cen Land has returned to be a strategic partner of Vinhomes in Vinhomes Grand Park project. Besides, Cen Land cooperates with M.I.K Group to become the sales agency of Imperia Smart City. Cen Land is selling a number of hot projects such as The Terra Hao Nam and Giang Vo Grandeur Palace of the investor Van Phu - Invest, King Palace of the investor Alphanam, Eurowindow River Park, Wyndham Thanh Thuy, The Manor Central Park of the investor Bitexco, Lotus Central of the investor Dabaco, etc. In addition, Cen Land continues to sign a cooperation agreement with Dat Phuong Joint Stock Company to become the exclusive sales agency of Casamia Hoi An project - the ecological population of Casamia floating resort with home marina. In Nha Trang, Cen Land is currently offering An Vien project. In Phu Quoc, Cen Land is chosen by Vingroup to sell VinWonders Phu Quoc project.
Cen Land perfects its ecosystem by developing logistics real estate.
Cen Land quickly expands its ecosystem with Cen Zone - Industrial real estate agency for about 300 industrial parks in the country. Cen Land will study the development of a logistics real estate supply chain to participate in the world's supply chain.
Along with that, Cen Land announced Cen Cuckoo - the first large-scale serviced apartments in Vietnam. Apartments in Euro River Tower, Eurowindow River Park project will be the first apartments to apply Cen Cuckoo's serviced apartment model.
While the international market is still facing the complicated pandemic, Cen Land has recently signed cooperation agreements with Dwell from Hong Kong to sell and market more than 100 apartments at Eurowindow River Park project for Hong Kong investors.