Issuance of an additional 20 per cent shares to existing shareholders
Cen Land has intention of issuing shares to pay dividends in 2019 at 20 per cent (if someone is holding 10 shares, he will get 2 more.). Capital is taken from undistributed net profit on audited financial statements of 2019. Expected execution time is in the fourth quarter.
The company has 80 million outstanding shares, therefore 16 million shares is allocated to pay dividend. Its charter capital is to be about VND960 billion ($41.5 million).
Cen Land aims at completing its 2020 revenue plan.
By the end of the third quarter of 2020, undistributed after-tax profit is over VND930 billion ($40.22 million), larger than the charter capital of VND800 billion ($34.6 million). In October, Cen Land has just deducted VND80 billion ($3.46 million) to pay cash dividend at 10 per cent to shareholders. Along with the plan to issue additional 20 per cent shares from profit after tax in 2020, the company plans to use a total of VND240 billion ($10.38 million) in profit after tax to pay dividends in cash and bonus shares to existing shareholders.
For the first nine months of the year, Cen Land achieves revenue of VND1.308 trillion ($56.57 million), equivalent to 81 per cent of the same period last year. In which, revenue from real estate sales and brokerage is VND755 billion ($32.65 million), revenue from real estate transferring is VND537 billion ($23.22 million). Profit after tax is over VND202 billion ($8.73 million), down 28.4 per cent year-on-year.
In 2020, the company expects total revenue to achieve VND2.441 trillion ($104 million) and consolidated after-tax profit to reach VND400 billion ($17.3 million), up 5 per cent and 2 per cent respectively over 2019.
More properties for sale at the end of 2020
The real estate market is in the sprint in the last months. This is a golden time for real estate projects to boost sales of the whole year.
As the largest real estate agency in Vietnam, Cen Land wins the trust of many prestigious developers to be the exclusive sales agency out of more than 100 projects the company is offering to the market.
Xanh Villas (Thach That, Hanoi) - One of the key projects of Cen Land
According to representatives of Cen Land, in the third quarter, the company is about to launch more than 17,000 real estate products with a total value of more than VND68 trillion ($2.94 billion). Many projects bring big revenue from now to the end of the year ranging from terraced houses, shophouses to villas in Kim Chung Di Trach, Binh Minh Garden, Xanh Villas, Galaxy Van Phuc, The Manor Central Park, Louis City, Geleximco Southern Star, Casamia Hoi An, SAKANA Hoa Binh, Wyndham Lynn Times Thanh Thuy, BRG Le Van Luong, King Palace, The Matrix One, Vinhomes Grand Park, C-Sky View, just to name a few.
Sharing under the topic "Sales among COVID-19" - a part of the "From survival to prosperity" online forum by FPT, Cen Group chairman Nguyen Trung Vu disclosed that at the prolonged Covid-19, young people had the tendency to favor houses in rural areas. The company's revenue still saw a 6 per cent increase, which was higher than both last year's performance and this year's estimation. In the context of the paralyzed property market, Cen Group has more than 3,000 employees, wrapping up thousands of successful brokerage transactions per month, 2020 business plan will be completed soon, even surpass last year.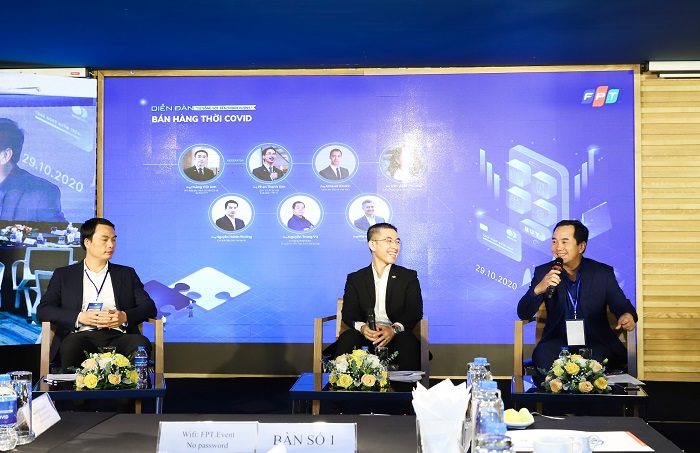 Cen Group chairman Nguyen Trung Vu shared about the challenges and opportunities of the real estate and Cen Group in the midst of the COVID-19 lockdown.
According to some experts, due to the pandemic control, the real estate market is showing signs of recovery. In the next one or two years, in the context of new Law on Investment, amended Law on Construction (effective from 2021) and revised Law on Land, real estate supply may increase at an average annual rate of 30 per cent over the period 2021 - 2022. Absorption rate may remain as high as 90 per cent, reflecting unmet demand, golden demographic structure, rapid urbanization, and a rapidly growing middle class.
Cen Land focuses on core values as the largest real estate agency and secondary investor in Vietnam, the ecosystem expansion, the proptech for the post-pandemic breakout along with the rapid adaptation to market changes. The company will achieve a high growth rate in the next three years and strive to join the billion-dollar club.