Q3 revenue records over VND602 billion, up 6 per cent y-o-y. Net profit is about VND63 billion, down 30 per cent y-o-y. After nine months, revenue reaches VND1,308 billion, equivalent to 81 per cent of revenue in 2019. In which, compared to the same period last year, revenue from brokerage is VND755 billion (80 per cent), revenue from real estate transfer is VND537 billion (84 per cent). Profit after tax is more than VND202 billion, down 28.4 per cent y-o-y.

Price fluctuation of CRE from the beginning of 2020 to the session of October 20, 2020 (Source: VietstockFinance)
Network expansion, sharp increase in the market share
From the beginning of 2020 till now, while the market is heavily affected by the COVID-19 pandemic, many real estate agencies have faced difficulties and gone bankrupt. Cen Land has offered new policies to renew management capacity and expand the sales force for a breakthrough after the pandemic.
Recently, Cen Land has just launched the new sales force named Cen CHS. Cen STDA and Cen CHS are two core sales forces of Cen Land with over 3,000 sales consultants, up 20 per cent compared to early 2020. Along with more than 700 connected agencies and 15,000 agents, Cen Land has the most realtors in Vietnam.
Amidst the COVID-19 pandemic, Cenhomes.vn proptech platform has provided great support for brokerage. The company has strongly invested in technology in recent years to perfect the transaction system and online real estate valuation platform on Cenhomes.vn. This leads to Cen Land's selling expenses to rise 278% in the first nine months. In the coming time, Cen Land will continue to invest in technology to get ready for the digital transformation in the real estate and become the largest proptech platform in Vietnam.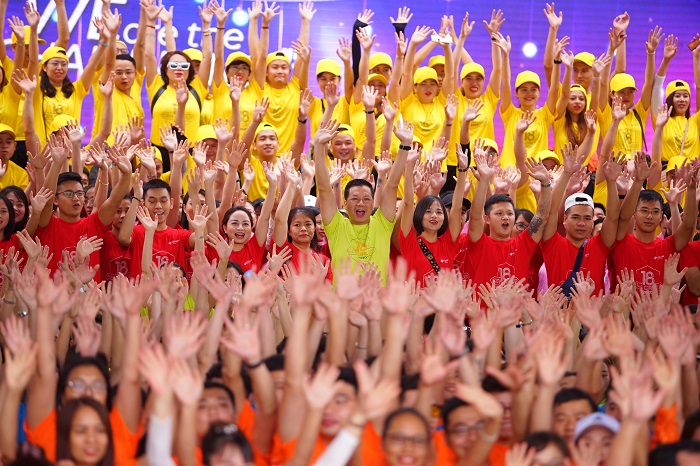 Cen Land owns the largest sales force in Vietnam.
Currently, the online valuation platform on Cen Homes is in beta testing in Hanoi and Ho Chi Minh City and is assessed to be over 90% accurate. A number of major banks in Vietnam have intended to use Cen Homes' valuation service as a basis for appraisal for loan applications.
In addition to affirming its market leadership position in Hanoi and Ho Chi Minh City, Cen Land has restructured and expanded local companies. Recently, Cen Land has established Cen BM to expand, develop and professionally manage a series of local companies across the country to replace the representative offices.
The local companies will be equitized and upgraded to become a new entity sponsored and managed by Cen BM, fully supporting the establishment, use of the brand, and operation. With this new model, the local sales force is more proactive and becomes an extended arm of Cen Land in all provinces, localities and regions.
According to Cen Land BoD, this new model plays an important role to help encourage connected agencies and sales consultants to start up, especially in such difficult periods. They can maximize their capabilities, and get strong support from Cen Land. We expect this model will help Cen Land further develop its core competencies, expand the market and strongly increase market share in the near future.
Up to present, ten local companies have been established. By 2021, Cen Land will set up about 70 companies in localities and provinces.
Taking advantage of the breakthrough opportunities
Keeping up with the trend of the market, Cen Land is researching and developing the logistics real estate, as well as sales agencies for this real estate line. In which, Cen Cuckoo, specializing in serviced apartments, is the first brand to be launched.
It can be said that, Cen Land Board of Directors has taken drastic decisions and actions to respond effectively to the pandemic and take advantage of the opportunities to invest and renew the business model and ready to make a strong breakthrough in the coming time.
In 2020, the company expects total revenue of VND2,441 billion and consolidated profit after tax of VND400 billion, up 5% and 2% respectively compared to 2019. The representative of Cen Land affirmed: "With new business strategies, we believe in the capacity of Cen Land to complete the revenue plan as approved by the AGM ".
In the market, CRE is priced at VND24,250/share (morning session on October 20, 2020), slightly up 2% over early 2020 and over 60% compared to April 2020. Cen Land BoD also decided to consult shareholders in writing about the additional 20% of bonus shares from undistributed after-tax profit. The record date for shareholders' opinion is November 4, 2020.
By the end of the third quarter of 2020, the company still has more than VND930 billion, undistributed after-tax profit, greater than the current charter capital of VND800 billion. The company has just deducted VND80 billion to pay 10% cash dividend to shareholders on October 19, 2020.